Omni-channel Category Management
Balancing variety and duplication remains a key retail challenge. Many retailers are increasingly asking themselves:
What should drive my market coverage…the corporate assortment strategy, the category role, the target shopper or my overall traffic?

How can my assortment drive differentiation? And, how do I encourage item customization from suppliers?

Where is the transferable demand? How do I find and encourage it?

How do I optimize enterprise-to-store level product mix?

How do I effectively rationalize sizes, flavors, extensions and suppliers?
To address these assortment opportunities, leading retailers are formulating robust assortment strategies based upon rigorous corporate and departmental analyses. These strategies combined with a disciplined assortment planning process, advanced tools and new capabilities are producing incredible results.
Retail Category Management
What We Do
TPG's assortment optimization consulting is comprehensive and results-driven. We apply proven best practices in assortment strategy, models and techniques helping retailers identify enterprise, category and store-level assortment A partial list of our consulting services include: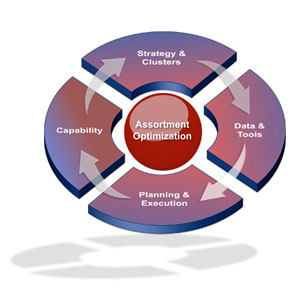 Variety (Assortment) Strategy: Prioritize total store, cross-category variety requirements based upon targeted shopper and commercial criteria.
Assortment Clusters: Identify store clusters that reflect the retail format, competition and shopper/consumption targets.
Assortment Planning & Review: Design and imbed an assortment planning, execution and monitoring process that is fully integrated with other merchandising & operations work streams.
Assortment Tool Evaluation & Installation: Facilitate the review, sourcing, piloting and installation of an assortment tool, database and/or system.
Organization Capability: Identify the required assortment competencies and training regiment to build the desired assortment organization capabilities. Design and implement an Assortment Center of Excellence to build leading capabilities.