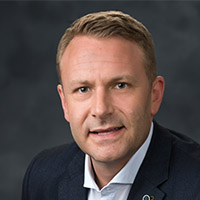 TPG is excited to announce that Rob Brindley has joined the firm. He has excellent Global experience of leading retail and consumer packaged goods companies in their efforts to become more capable, strategically focused and customer oriented. Rob is passionate about driving change in organizations and has excellent industry experience having worked at Tesco, Boots the Chemist, Audi UK & Molson Coors.
Rob has been exposed to Marketing, Sales, Business Development and Category Management across the world having worked in the UK, Asia and the USA. This experience has lead Rob to be an expert on Multi-Functional Selling teams and driving sales capability. He is passionate that manufacturers sell from a category standpoint to ensure that their teams are creating value added relationships with their retail customers and delivering great products / services to shoppers and consumers.
He has experience of working within and with all major Grocery and Convenience retailers in the UK. He successfully landed Joint Business Plans with major retailers enabling the business to confidently invest behind the shopper for future growth.
His experience will give our clients a real advantage when thinking about their needs in sales capability building, joint business planning, customer management excellence and internal sales support excellence.