The Opportunity
Return on Equity is a critical factor to improve shareholder value. As growth expansion is limited and comparable store sales shrink, influencing the balance sheet is critical for shareholders and analysts. Over the last five years, leading retailers have improved inventory/working capital by 8-20% and have been rewarded with industry leading P/E ratios.
To improve inventory performance, the most comprehensive approach begins by focusing first on the retail outlet and works backwards through buying systems, planning processes, and supplier capabilities to identify the key drivers for improvement. TPG works individually with retailers as well as collaboratively with their trading partners using a detailed process and analytical tools to deliver typical reductions of 8-15% of cost of goods sold.
Retail Operations
What We Do
TPG works with the client to deliver immediate inventory reductions as well as a process to maintain and accelerate results. A partial list of our consulting services include: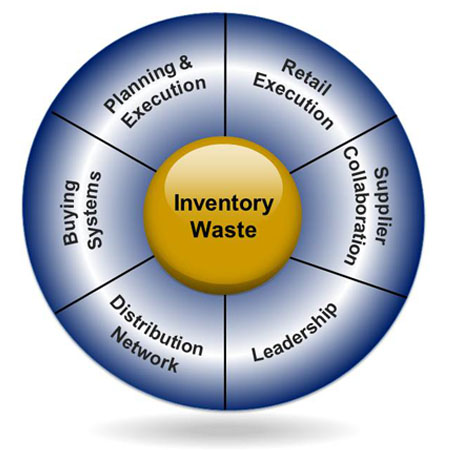 Identification of Inventory Drivers: Defines the critical inventory drivers from the retail outlet back through the value chain. These include:

Retail Outlet drivers like inventory accuracy, replenishment processes, forecast accuracy, merchandising execution, and Backroom Managment
Buying System drivers like safety stock, cycle inventory, manufacturer requirements/pricing, and order cycle lead-teimes
Planning & Execution drivers like merchandising, assortment, seasonal, and inventory process management
Manufacturer drivers like inventory levels, distribution requirements, shipment reliability, and pricing
Inventory Modeling: Based on a thorough understanding of the drivers above, TPG will model the ideal inventory requirements as well as what can be expected improvement over a defined time-frame. The model will be done at the sku, category, and business unit level. The benefits will be fully quantified and TPG will align all stakeholders.
Roadmap and Capability Guide: Using proprietary Best Practice knowledge base, TPG will develop a road-map and capability guide to deliver the inventory plan. This work may be conducted after a short pilot testing process to identify operational deliverables. This work would would include planning and review processes, critical metrics and information delivery systems, policy changes, and operational best practices.