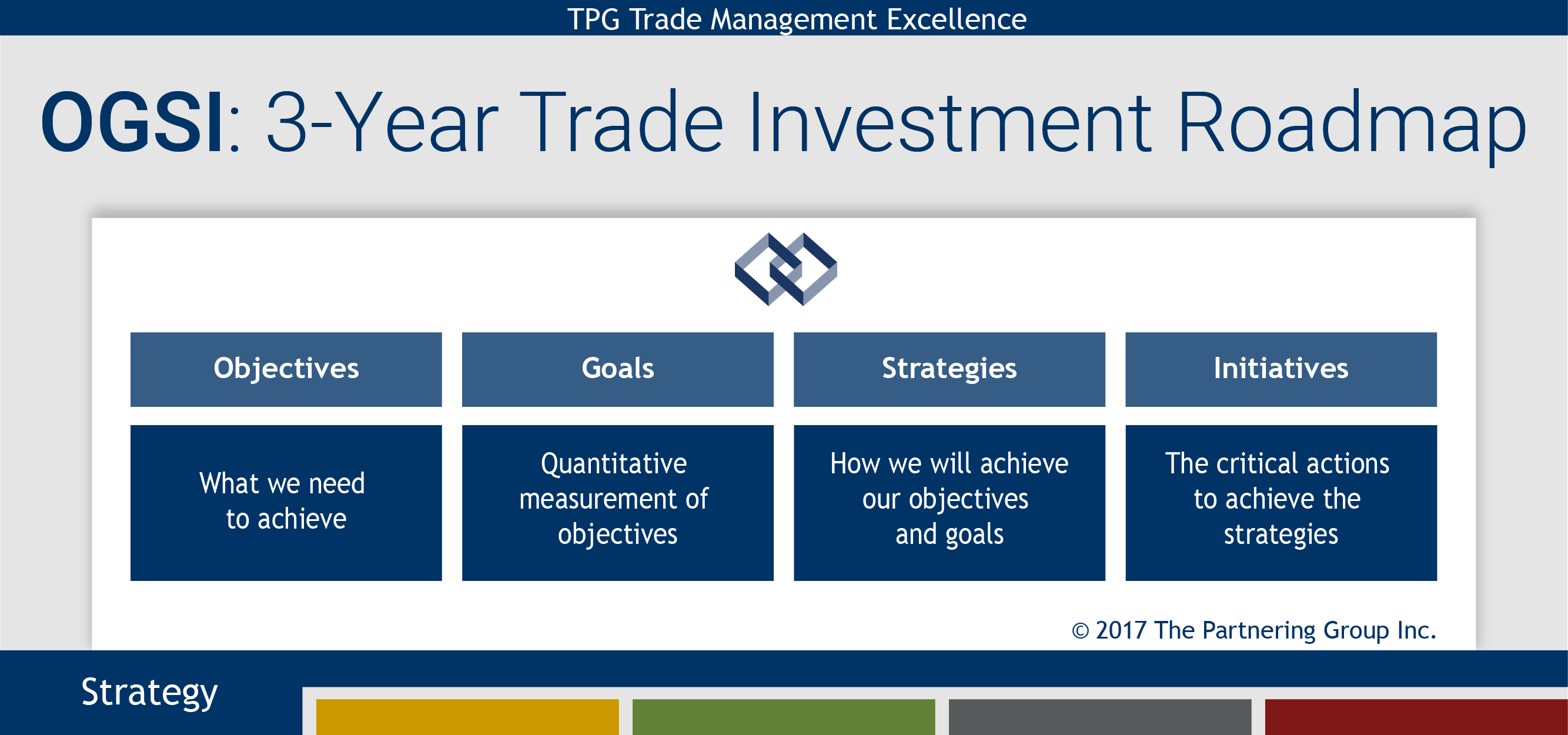 By: Andy Buteux, John Wildman and Don Baker
TRADE MANAGEMENT EXCELLENCE demands disciplined, effective investment. Now that we have introduced Strategic Plan elements in the previous post, it is time to address the Trade Spend Strategic Plan – or probably more accurately, the Three-Year Trade Investment Roadmap.
COGS (cost of goods sold) is the biggest line on your P&L and we always see detailed plans behind that number – plant layouts, line configurations, formula changes, product sourcing, waste elimination, and detailed distribution planning.
However, we rarely find that same level of discipline and detail in a Trade Spend Roadmap. When asked, organizations typically show us PowerPoint decks that detail business direction to the Sales Organization. Occasionally we are shown some customer segmentation or maybe 4P direction – what prices or promotions should be implemented, favored tactics or times of year/month, etc.
Also seldom seen are documents that outline the strategic choices and direction for the second greatest line on the company P&L.
The 3-Year Trade Investment Roadmap should focus an Organization on the critical few choices that will help them win in the marketplace for the next three years and beyond. We like to construct it around a very simple outline using the acronym, OGSI – Objectives, Goals, Strategies and Initiatives.
The model illustrated at the top of this page works like this:
Objectives are one or two overarching statements of what you want to achieve. This is usually a set of words developed in a way that it will live on for the life of the plan. So it should be broad. Examples include:
Drive sustainable company and customer growth by increasing the productivity, effectiveness and discipline of the trade investment
Trade investment is aligned to brand strategies and customer segmentation. It leverages insights, and supports efficient spend management to deliver accelerated net sales growth
Goals are the specific metrics defined to track the 3-year plan's effectiveness. Examples often include quantities like: Net Sales Growth, Trade % reduction, accrual or deduction balance reduction, post audit or penalty claim reductions, forecast accuracy improvement, ROI improvement, etc. Like Strategies, Goals should be broader and more indicative of longer term targeting.
Strategies follow goals. These are the specific ways in which the objectives and goals will be achieved. Strategies should stand the test of time and typically will not change over the life of the plan. The key to writing these is to project how this concept is different than anything you do (OR DON'T DO) when developing your approach to Trade Investment today. Examples include:
Build an Integrated Commercial Planning Process
Drive Policy and Compliance creation and standardization
Develop a Pre and Post promotion measurement capabilities and discipline
Create and deploy a master data governance approach
Enhance System capabilities
Train and develop our organization to advance trade investment improvements
Initiatives, unlike Strategies, typically do not run over the life of the plan. They are often the critical and specific 1 or 2 year projects, activities and actions that deliver the Strategies.
The benefit of the OGSI approach is that the organization now has the Roadmap for how it will improve itself. It can be budgeted, measured, and should remove any ambiguity regarding what constitutes success and how trade will enable the customer plan. It is just the right way to run any function.
So how do we ensure that the strategy gets executed? It starts with proper customer planning. We address how in the next post.
_________
Authors' Note: This article is the second of a TPG series on Trade Management Excellence. Find the previous post here: Effective Trade Investment: Critical Elements for Your Strategic Plan. Next up – Closed-Loop Planning is Not a System Term.
© 2017 The Partnering Group, Inc.