Capability Assessment
Today's leading Manufacturers excel by continually developing and investing in world class capabilities – capabilities that include translating leading edge, robust insights into breakthrough actions at retail, having well defined and consistently followed best practice work processes and developing talented people with clearly defined competencies and succession plans.
Leading manufacturers also utilize advanced analytics to deeply understand the effectiveness of their Trade spend and maximizing ROI. World class organizations realize the benefits of a comprehensive assessment of the organization's capabilities and customer development effectiveness to provide targeted, prioritized and actionable direction on where to focus efforts to drive sustainable, long term success.
What We Do
TPG's comprehensive approach to assessment uses a combination of advanced analytics, key document evaluation and Customer interviews to provide a clear understanding of an organization's current state, desired state (benchmarking) and the work required to bridge any gaps. TPG's assessment services include: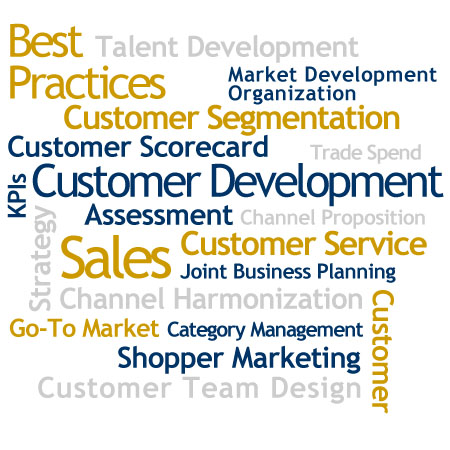 Strategy: Do you have a clear and focused Go-to-Market Strategic plan? Have you done extensive Channel and Customer segmentation work to focus your limited resources and efforts? Driven by this analysis, have you identified Channel propositions that highlight what you are willing to invest?
Process Excellence: Are there core work processes that help drive focus, accountability and rigor across the organization? These might include Integrated Business Planning, Joint Business Planning or Portfolio & Category Planning.
Organization Capability: Do you have clear roles & responsibilities with well-defined functional competencies linked to performance evaluation, capability building and succession planning? Are you structured appropriately to get the work done in an effective and efficient manner?
Information Systems & Measurement: Do you have robust Shopper insights that drive your conversations with Retailers? Are Customer P&L's in place to drive "General Management" thinking across the sales organization?
Indicated Actions: We will provide a sequenced and prioritized set of activities that enable quick wins and provide a longer terms roadmap to address key gaps vs. best practices.