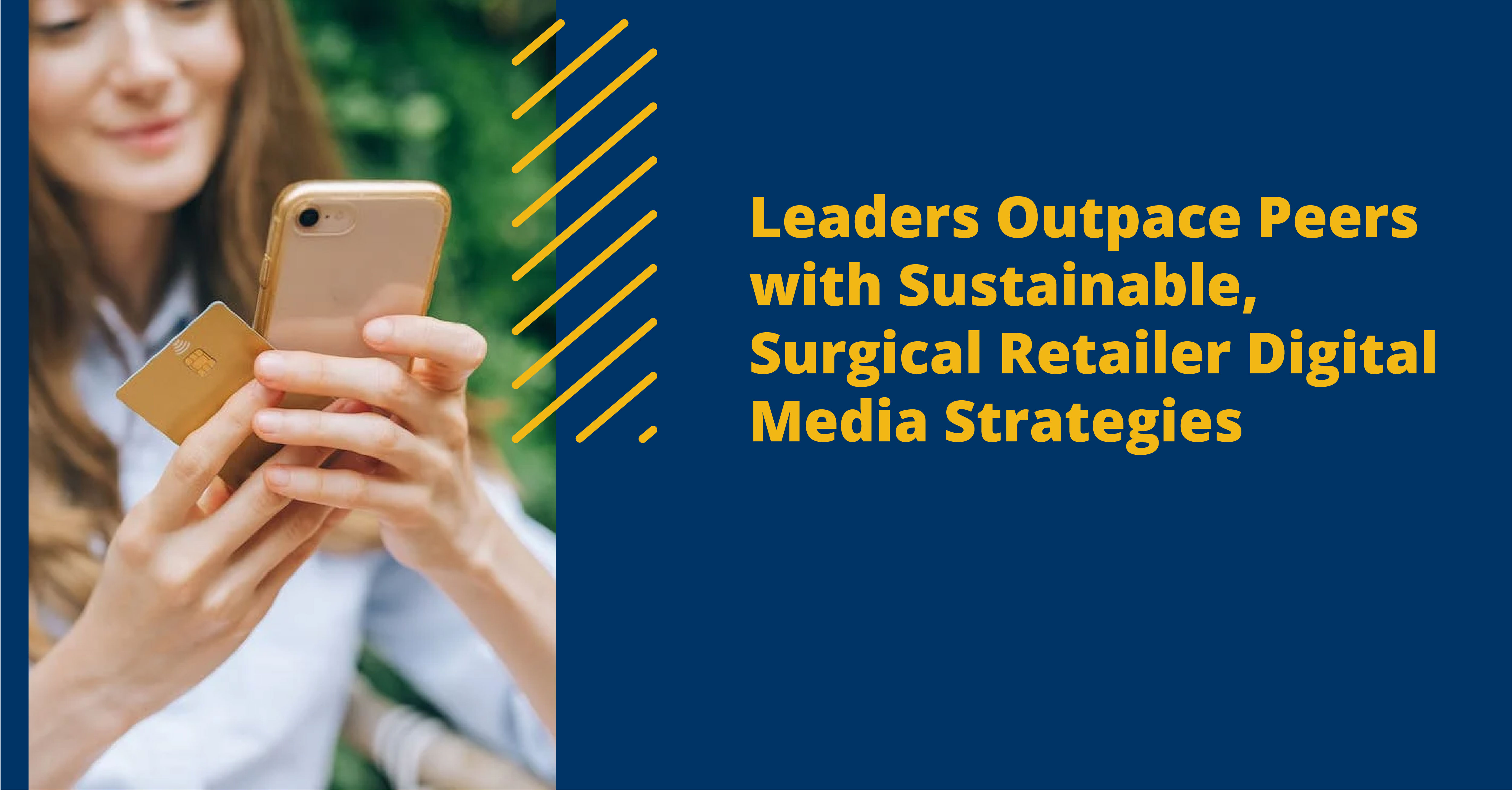 With shopping behavior expanding online through eCommerce buying and digital influence on in-store purchasing, brand building requires new rules to play and win.
Continued growth of retail digital media
According to eMarketer, retail media is expected to grow faster than all other media except connected TV. The channel is on-track to hit over $40B in 2022 and has outpaced Q2 of 2021 by 42% and is not looking to slow; eMarketer is estimating that retail media will hit $60B by 2024.
Many CPGs are struggling with a sustainable strategy as retailers are no longer just customers asking for simply a partnership in category growth and competitive trade investments. Retailers that are connecting eCommerce investments to the brick-and-mortar portions of their business through joint business planning have made headway in demonstrating the importance of retail media investment and partnership. Retailers continue to seek more dollars (beyond the category investments, shopper programs and trade increases), to reach shoppers with their data-driven on-site and off-site media properties.
While this development means more fragmentation to a perhaps dwindling budget, retail media is growing for a good reason.
Why retail media is valuable to CPGs
For marketers, retail media has a lot to offer brands.
The connection of retail media to the shopping cart has created what we call the "buy now funnel," allowing the shopper to buy from almost any media format, moving from awareness or consideration to purchase instantaneously.
Retailer media networks' first-party data insulates most retailer media from cookie depreciation, making the investment even more competitive than other digital media platforms.
The promise of full-loop omni attribution enables the holy grail of performance marketing, connecting digital media to in-store sales.
An investment in retail media may lead to momentum in your partnership when it comes to in-store merchandising and other value-adds (think beta-tests, preferred partnerships, distribution).
Retail media is still developing
Significant headwinds remain in the channel.
The shopper's eCommerce experience is still in its infancy across most platforms. In many cases, the shopper is dumped onto a page of skus and there is very little solution-shopping or "experience" compared to that of brick and mortar.
Gaps in connectivity within the retailer between merchants and marketing create internal navigation challenges for CPGs as investments may appear like an endless ask with little reward.
Many retail media networks are still building traffic scale and quality, capabilities, processes, and platform functionality so all platforms are not created equally.
High fragmentation across retailers and within retailer systems create laborious platform management and investment optimization (multiple vendors, tactics, inconsistent reporting).
What Leaders are Doing
Retail media is a necessary part of a CPGs marketing mix, however the transformations required to drive the strategy, performance and optimization are a tall order for most organizations. Here's what we see leading brands do to make the most out of this investment.

Leading brands surgically align tactics and KPIs to the strategic focus of their business
While it can be tempting to test the next cool tactic or platform, leaders are meticulous about defining a strategy in terms of growth or profitability. With nearly all retailers offering media, it's important to determine where category engagement (and typically growth) and shopper engagement within the platforms are the highest. Leading brands know that conversion will be more effective and efficient where the shoppers already are.
From there, objectives are developed based on the maturity of the brand and the competitive market differentiation. Newer brands and/or innovation may emphasize tactics that drive awareness and consideration within a retailer's platform, whereas more mature brands emphasize purchase, loyalty and retention. KPIs are selected based on the purchase-journey funnel stage and the corresponding objectives. Tactics need to be evaluated against others in the same funnel stage for apples-to-apples comparisons in order to drive optimization
Leading brands invest in rapid and iterative media investments
The complexity and fragmentation of retailer media platforms requires evolved data and resources to optimize the performance of the investments. Leaders are investing in third-party data providers to enable surgical performance management. Additionally, leading companies are ramping up data science and analytics teams to play a larger role in evaluating investments and incrementality.
Leading brands overcome organizational silos
Whether through organizational structural changes, or enterprise strategy changes that are supported by optimized processes, leading companies are working differently to integrate retailer media networks into their national brand advertising efforts.
Regardless of where a brand is in its life-cycle, if the brand intends to sell through a retailer, then a retailer media strategy that is sustainable and surgical is a must.
Meet Our Commerce Marketing Partners
The Partnering Group's Omnichannel Practice is comprised of industry-recognized practitioners with leadership experience from leading CPG's and Retailers.
We have been in your shoes, and we understand the complexity that must be clarified to drive growth: omni-channel insights, retail media strategy and performance optimization; organization and agency models; processes, systems and tools; talent development and change management.
Contact us today.
Sign Up Below for TPG Industry Insights