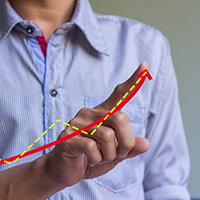 Designing your Supply Chain to be strategically and efficiently equipped to meet the expectations of retail customers is mandatory for sustaining value creation.
TPG Partner Pete Wojda transforms our clients' value chain to enable profitable growth. As a former Procter & Gamble/Gillette supply chain executive, Pete brings extensive experience and electric passion to delivering value chain optimization and supplier development customization plans tailored to each client's challenges.
How is your industry adjusting to supplier capabilities to meet the ever increasing requirements of CPG retail partners?
Delivering differentiated products and supply chain solutions in a continually evolving market is necessary to thrive. This approach begins with developing a holistic supply chain strategy, clearly defining business and customer requirements, and then making a determination on which strategic suppliers are best equipped to deliver a highly responsive set of capabilities to deliver successful outcomes. When key suppliers are fully integrated into the manufacturers value chain with a clear understanding on customer requirements, the synergies available to deliver speed, low cost and agile supply solutions becomes a demonstrable competitive advantage. Learn how TPG's Supply Chain Practice is helping CPG companies deliver innovation to your supply chain for success.