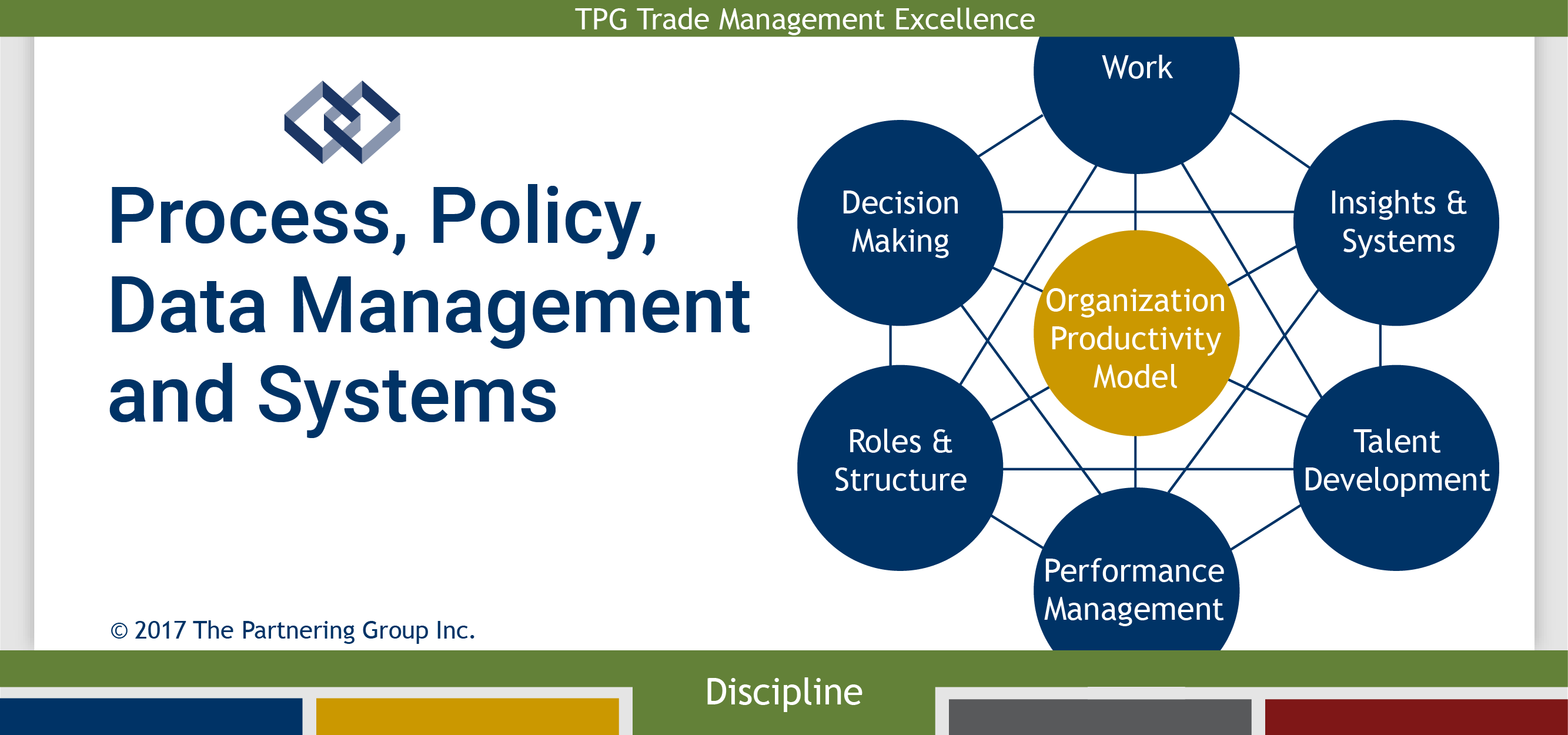 By: John Wildman, Don Baker and Andy Buteux
FAR TOO OFTEN, companies fail at managing trade investments because of a lack of discipline in review, reporting and compliance.
This is the meat of the matter from our perspective. While companies work hard to set brand and trade strategies, too often they don't report and review to determine if the strategy and execution are effective. Disciplined companies install quality Processes, Policies, Data Management and Systems to support regular compliance.
Interestingly, we have heard C-suite executives say, "Don't give us a bunch of process maps. Just teach our people the best practices that we should deploy".
Well, processes are the best practices to complete a given set of tasks that lead to trade investment excellence. While their adaptation may depend on the business model, most core work required to attain excellence does not. Some of the most needed are:
Strategic Direction: Creation of the Strategic Plan, funding approach and price architecture
Planning: Joint business planning, building the account plan, trade allocation, incremental funding approval and execution, and playbook development
Discipline: Plan reconciliation, deduction management, data management, trade audit, monthly strategy/execution meeting
Analytics: Every day and promotion price-setting, post event analysis, guidelines creation, simulation and optimization
A sound method for creating Process will tie it to roles and then map the work and competencies needed to complete it. Each organization should follow a similar path for creating Process and managing change in order to ensure trade investment excellence.
We observe considerable ambiguity and a lack of discipline in the maintenance of and adherence to Policy. When asked for a succinct definition of the term, a Human Resources person once responded, "Policy is a company mandate that, once set, presents grounds for employee discipline up to and including termination if not followed."
Wow… Maybe that is a little over the top, but too often it's not far from the truth. Yet we see countless examples of Policy that is created on the fly, is out of date, not documented and not followed.
For example, bracket pricing policy and payment term policies are two of the most un-policed and inconsistent areas. We do consider these trade policies because we treat all money going from the CPG Company to the retailer as trade investment requiring pay for performance.
The lynchpins that connect all of this are data accuracy, management, and reporting. These impact everything from ROI accuracy to billing accuracy. Among the most common issues:
Master Data Governance: No real clear definition and sign off procedure to insure the consistency and accuracy of data make up from system to system
Product Hierarchy: We always find differences between external data sources, trade system product hierarchies and various other system and reports due to product description inconsistencies and inaccuracies. New items or item changes are an especially difficult area to manage.
Sales Hierarchy: Hierarchies typically will be changed in enterprise systems but trade system and reporting data doesn't always flow from the ERP system. In addition we find that the communication methods around sales responsibilities and account changes are often mishandled.
Finally, Systems often take the blame when progress is below expectation. It always feels as if they are looking for the technological silver bullet to fix their problems. To be fair, many of our clients have antiquated or poorly maintained systems. But often the symptoms of trade investment issues exist due to the absence of discipline in:
Data Entry: Ensure that all of the elements of a trade promotion are entered properly
Data Review: Monitor the plan results to ensure that sales people are writing a good plan.
To further illustrate the issues:
We have encountered several instances where salespeople combine the promotional spend of an account against one promotion in the system. They set the dates as yearlong and plug in a lump sum. Then they draw down the money on a per case basis through promotional contracts that are submitted to the customer. This prevents any sort of useful payback analysis.
We have also seen clients that have set up promotion groupings that do not match the secondary or promotional groupings designations in the syndicated data. Or as stated above, they don't maintain either very well.
These aren't system issues. They are process issues. Get the best from what you have by measuring the inputs and outputs of the system.
So how are you performing?
If you feel like the company generates a sea of information without real action or if activities around trade investment seem to be disjointed and unaligned, you may have a process opportunity.
If your sales organization can't find information on price list changes, bracket pricing and terms practices, credit terms, trade investment funding and its purpose, etc. you may have a policy opportunity.
If you are constantly correcting invoicing issues or if you have to rely on a nested set of excel reports and databases to attain decent analysis, you may have a Data Management opportunity.
If you are not getting the most out of the trade system you have in place but the system feels better equipped to handle the data then your performance suggests, you may have a promotion data entry and/or data output issue.
Next time we'll talk about Compliance as executed through key processes.
_________
Authors' Note: This article is the fourth of a TPG series on Trade Management Excellence. Find the previous post here: Why Closed Loop Planning is Not a System Term. Next up – Compliance – The Elusive Key to Price and Promotion.
© 2017 The Partnering Group, Inc.