Price: Complementary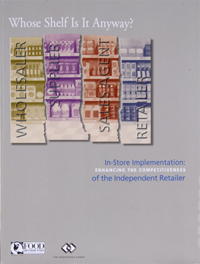 Whose Shelf Is It Anyway? – In-Store Implementation: Enhancing the Competitiveness of the Independent Retailer was produced by The Partnering Group, Inc. working with leading retailers and manufacturers in North America for Food Distributors International.
The Setting for the Study
The U.S. grocery products industry is in the midst of significant change, which is challenging all segments of this industry – retailers, wholesalers, suppliers, and sales agents alike. These challenges include consolidation, a widening spectrum of competitors, complex technology investment decisions, and achieving growth in a business environment of lower inflation levels. These business realities demand strategies that are both innovative in design and superbly executed.
The consumer must be at the heart of these business strategies, as achieving long term, sustainable competitive advantage requires superior knowledge of consumer needs and behavior. Strategies that leverage this knowledge then become the centerpiece for achieving day-to-day competitive advantage. This requirement is certainly a reality in the fast paced, dynamic grocery products industry.
The wholesale-supplied channel of the grocery products industry recognizes the need for new strategies. The 1998 report, Strategies 2005: Vision for the Wholesale-Supplied System, identified the most significant changes impacting this channel and recommended a variety of strategies that wholesalers and independent retailers should pursue to adapt to and take advantage of these changes. This In-Store Implementation Study represents a logical follow-on initiative from the Strategies 2005 report.
The central focus of the In-Store Implementation Study is the establishment of more effective methods to understand and serve the needs of the ultimate consumer – the millions of shoppers who fulfill their grocery shopping needs in stores operated by independent retailers and served by wholesalers. The right strategies, however, can only deliver their potential business results when these strategies are well executed where it really counts – in the store where the consumer shops.
This study originated from a growing concern among all members of this channel -wholesalers, retailers, suppliers, and sales agents -that business opportunities are being lost due to the inconsistent quality of in-store implementation work. While this situation is not unique to the wholesale-supplied channel (self-distributing chain retailers have also identified that business opportunities are being missed due to this same issue), the challenges in addressing this issue in the wholesale-supplied channel are greater because of the unique relationship between wholesalers and independent retailers. This study addresses these challenges by developing improved in-store implementation practices that leverage the unique strengths of this channel in fulfilling consumer needs at the store level. These practices, articulated through numerous exhibits, provide clearly defined outcomes, tasks, roles and responsibilities, and best practices that provide a roadmap to all members of the wholesale-supplied channel for improving the quality of in-store implementation work.
Overall Purpose of .the Study
The primary goal of the study is to capture, for the benefit of all members of the channel, the significant business benefits that are possible from improving in-store implementation practices.
For several reasons, the findings provide a powerful business case for implementing the recommended actions. First, this study, which is also supported by similar research and experience in other channels, reveals the significant magnitude of sales and profit improvement that are possible by adopting more effective in-store implementation practices. Second, while these opportunities are significant, the benefits of enhanced consumer satisfaction and increased consumer loyalty levels that will result from improved implementation also represent lasting benefits in terms of achieving competitive advantage.
What the Study Provides
This study provides a comprehensive roadmap, for obtaining these potential benefits, to all trading partners within the wholesale-supplied channel flagyl tablets. This roadmap includes:
– Detailed task-by-task descriptions of "Best Practices" business processes necessary to significantly improve the in-store implementation of assortment, shelf, and display management decisions.
– Specific roles and responsibilities for all trading partners -wholesalers, retailers, suppliers, and sales agents.
– Information, skills, performance measures, and reward mechanisms that trading partner organizations need to have to perform these roles and responsibilities.
– A realistic estimate of the magnitude of the sales and profit increases that can be achieved through the adoption of the business processes designed in the study.
– A specific set of recommendations for the channel as a whole and for each trading partner to follow to achieve competitive advantage through superior in-store implementation.
The maximum benefits from implementing the solutions proposed in this report, however, will only be achieved if the trading partners in this channel adopt business practices that facilitate more cooperative efforts in their day-to-day business operations. All members of the channel must make changes to current business practices if the goal of improved in-store implementation is to be achieved. While the solutions proposed in the study contain benefits for the individual members of this channel, it is when individual members act more cooperatively with their trading partners that the benefits will be maximized. While changes of this magnitude are never simple or easy, the scope of the potential benefit, both short and long term, more than warrants making the effort. The study has identified the necessary changes. Now it is up to all channel members to commit their organizations to adopting more effective, more collaborative work processes. Only then will trading partners capture the significant benefits identified by this study.
Study Objectives
Three key objectives guided the work completed in the study:
1. Design business processes that will significantly improve the efficiency and effectiveness of in-store implementation activities.
2. Validate the potential business impact from implementing these improved practices.
3. Develop and execute a program to achieve broad-based implementation of these improved practices as quickly as possible.
How the Study was Completed
The study, which began in early 1999, was completed in four sequential phases. These project phases include Phase 1: Discovery, Phase 2: Design, Phase 3: Benefit Measurement, and Phase 4: Implementation.
The key work completed in each phase was:
Discovery: Define and understand current practices used for in-store implementation in three key areas – assortment, shelf, and display management. To obtain this information, more than 120 managers from all segments of the channel were interviewed.
Design: Develop improved in-store implementation processes for assortment, shelf, and display management. During this phase three design teams, comprised of 51 managers from all segments of the channel, developed new processes for in-store implementation.
Benefit Measurement: Measure the potential sales and profit benefits from adoption of these improved processes. Measurement focused on two areas – improving the speed-to-shelf for new products and improving shelf planogram integrity levels. Speed-to-shelf performances of 1,600 new products in 415 stores and planogram integrity levels for 200 categories in 90 stores were analyzed.
Implementation: Provide the tools and training to enable all channel members to use these improved processes.
Key Study Findings
Recommendations regarding improved in-store implementation practices in the wholesale-supplied channel emerged directly from the key study findings. The key findings of the study are:
1. Disconnected business processes have led to competitive disadvantage.
The lack of linked business processes between wholesalers, independent retailers, suppliers, and sales agents has been a major contributing factor to the growing competitive disadvantage of the independent retailer. Increasingly, chain retailers (supermarkets, drug, and mass merchandiser chains) have implemented practices that more tightly link decisions at different levels of the organization, especially headquarters-to-store marketing decisions and practices that better leverage the information and expertise of suppliers and agents.
2. Processes that are not integrated lead to poor decision making.
Because the wholesale-supplied channel lacks integrated processes, store implementation decisions are excessively driven by tactical and operational considerations. Moreover, strategic information, such as consumer and competitive market data, is inadequately used in making these decisions. The combination of poor decisions and less-than-adequate implementation practices is widening the competitive gap.
3. Redeployment of implementation resources will fail without better decision making.
The concern that suppliers and sales agents are deploying fewer resources against in-store implementation in the wholesale-supplied channel is a symptom of a more serious problem. Without better implementation processes and without efforts to guide these processes by better decisions in the areas of assortment, shelf, and display management, a redeployment of implementation resources to the channel will not close the competitive gap. The solution must focus on developing more effective decision-making processes, linking the decisions of all trading partners – the wholesaler, retailer, supplier, and sales agent. Only then will the right decisions be implemented on a timely basis, utilizing the most efficient combination of resources.
4. Adapting existing processes can close the competitive gap.
There is no need to "reinvent the wheel" in search of a better solution. Processes such as Category Management have consistently proven their value as a platform for more integrated decision making. In fact, these processes are among the most common practices used by chain retailers to gain advantage over independent retailers. The challenge is to adapt these proven processes to work in an effective and efficient manner in the wholesale-supplied channel. The Design Phase of this study produced these adapted processes.
5. Significant financial benefits can be attained without significant additional investments.
The potential financial benefits, derived by adopting improved in-store implementation practices, are very significant. Most importantly, these benefits can be achieved without major additional investments. The Benefit Measurement Phase validated the potential gains in just two areas: faster speed-to-shelf rates for new products, and more disciplined shelf management. By themselves, these
two areas offer tremendous opportunity for competitive improvement:
– Improving speed-to-shelf rates can generate increases of $1 15,000 in annual sales and $30,000 in annual gross profit per store.
– Improving shelf planogram integrity levels could increase category unit sales by 21 percent, dollar sales by 12 percent, and gross profit by 7 percent.
Significant opportunities also exist in other key implementation areas such as better management of display programs and faster removal of discontinued items.
6. More effective cooperation among trading partners in the channel is essential to success.
The most significant barriers to achieving the maximum benefits from the adoption of the new processes defined by this study are current business practices that inhibit effective cooperation among trading partners within the channel. The work in the Design Phase identified unproductive current practices that need to be addressed. A number of current practices are either not present in the wholesale-supplied channel or are performed more efficiently in the chain retailer channel, contributing to the competitive disadvantage facing the independent retailer. More effective cooperation among trading partners in their day-to-day business activities is essential to capturing the benefits possible from improved implementation.
7. Significant change must take place at the store level.
Implementation occurs at the store level. Most store managers interviewed in the course of the study agreed that processes guiding effective implementation at the store level are not well defined, work priorities are not clearly established, training and skill levels to do consistent high quality implementation are lacking, and performance measures and reward methods geared specifically to implementation work are inadequate. This contributes to slower speed-to-shelf rates for new products and inconsistent shelf planogram decisions.
The conclusion is clear – new processes are needed to fully capture business opportunities that are currently being missed due to a lack of effective in-store implementation practices. These processes must include changes at the store level in how implementation work is conducted and managed. Organizational change and improved communication among trading partners, combined with processes that clearly define tasks and responsibilities, an provide tremendous gains in sales and profits for all members of this channel.
To obtain a copy of the full report or learn more, contact The Partnering Group email at generalinfo@tpg-mail.com.