Driving simple change in a complex customer investment environment.
RGM Change Management: Register Here
On June 4th, join The Partnering Group & Exceedra as they host a one hour webinar on; "RGM Change Management: Driving Simple Change in a Complex Customer Investment Environment." The Partnering Group (TPG) will discuss how to drive consistency in strategy & execution within a Planning & Revenue Growth Management (PRGM) framework. Exceedra will collaborate with TPG to explain why TPM/O reporting is the backbone of a PRGM compliance strategy and how this can be implemented effectively in a consumer goods organization.
In this webinar, we will discuss:
Organization success imperatives: Key Performance Indicators / The Right Actions
Driving consistency in Strategy and Execution within a PRGM framework
TPM/TPO reporting – the backbone of a PRGM compliance strategy
Sales capability – The building blocks
Equipping sales to execute the PRGM needed changes
About the Presenters
Don Baker, Partner with The Partnering Group
Don consults with both manufacturers and retailers on projects involving trade investment, pricing management, category management and annual planning processes. Don has developed and delivered training courses on pricing strategy and category management in Europe, Canada and the U.S. Don has over 35 years of industry experience in a variety of retail and packaged goods management roles with companies such as Borden, Georgia Pacific, Diageo and Nestle. Don also has retail store management experience as he worked for American Store's Jewel division. Don's most recent experience came at Sara Lee where he was Vice President of Best Practices for Sara Lee with responsibilities that included; pricing and promotion management, category management, shelving and assortment, training, customer strategy and sales operations. Don has an MBA from Loyola University and a Bachelor of Science in Food Distribution from Western Michigan University.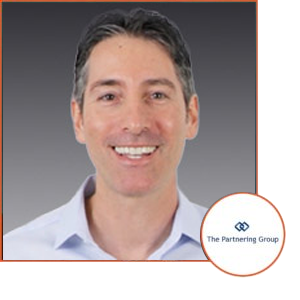 Jon Halpern, Partner with The Partnering Group
Jon is a Partner in the Customer Development Practice at The Partnering Group. His focus is on Organizational Performance, Commercial Strategy and Category Leadership consulting for CPG clients. Jon brings over 25 years of experience in the areas of Organizational Performance, Commercial Strategy, Category Leadership, Insights & Analytics and Customer Management. He has delivered exceptional results for 40 of the world's leading organizations across a highly diverse set of business challenges in every major global region in both consulting and line management capacities. Over his career, Jon has developed numerous innovative approaches to give clients competitive advantage and accelerated growth. He's architected and delivered over 20 large scale consulting engagements and facilitated over 200 workshops. Jon received his BA in Business Administration from the University of Florida.
Chris Rice, VP Sales & Marketing, North America with Exceedra
Chris Rice is a 30+ year CPG industry veteran with extensive experience in sales and marketing from a manufacturer and solution provider perspective. This experience come from varying roles at IBM DemandTec, Information Resources Inc., CAS and Quaker Oats Company. Expertise areas include TPM, TPO, Post Event Analysis, strategic trade and marketing planning, shopper insights, and retail execution. Chris has helped many clients make improvements to their trade planning processes and systems.
Chris is a graduate of the Kenan-Flager Business School at the University of North Carolina – Chapel Hill.