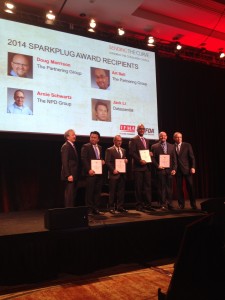 On Tuesday, November 4th TPG was awarded the International Foodservice Manufacturer's 2014 Sparkplug Award at the President's Conference in Phoenix, AZ.  TPG was recognized for leading thirty-five top Foodservice organizations in the creation of Full Plate™, the Category Management Best Practices Process for the Foodservice industry.  This IFMA-sponsored initiative has transformed the way that Distributors and Manufacturers plan and has been game-changing for the industry.
While at Presidents Conference, TPG provided an update to the industry on Full Plate™. Over the last nine months, TPG launched an Industry Best Practices Report on the Full Plate™ process; led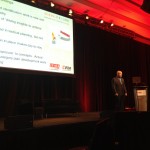 Full Plate™ Category Plans with 4 sets of Distributor and Manufacturer partners; led 6 different IFMA sponsored training sessions training hundreds of industry practitioners and is currently offering the Full Plate™ Starter Kit Capability-Building Program to help Manufacturers embed Category Management Capability within their organizations.
All 4 pilots are currently being activated in-market and the initial results are breakthrough…..+20% in sales in targeted segments/products to date.
For questions or more information, please contact Doug Morrison