Price: Complementary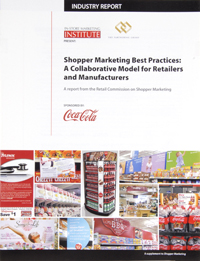 The Shopper Marketing Best Practices: A Collaborative Model for Retailers & Manufacturers report was created by the Retail Commission on Shopper Marketing which is facilitated by The Partnering Group, The In-Store Marketing Institute and was sponsored by Coca Cola.
Shopper marketing is the next evolutionary stage in strategic retail marketing, and a mandatory component of effective consumer marketing in general.
– The most essential and effective form of shopper marketing involves collaboration between retailers and product manufacturers.
– Effective shopper marketing demands a blueprint for collaboration that will help standardize many of the operational processes necessary for the practice.
– To date, shopper marketing has been driven primarily by manufacturers. But to fully capitalize on its promise, retailers must play a key role in further developing the concept and the processes required to carry it out.
– The Retail Commission on Shopper Marketing was formed to provide a mechanism for the development of effective retailer-manufacturer collaboration that will drive mutually beneficial business results for both parties.
– The Commission's objectives also include developing a framework of strategic, operational and organizational requirements that retailers will need to effectively integrate shopper marketing into existing business practices.
– Shopper marketing encompasses an array of integrated marketing and merchandising activities that can influence behavior in all three stages of the shopper behavior cycle (planning, shopping and consuming) and at all steps along the path to purchase.
– Successful shopper marketing begins with the development of a strategic plan to serve as a blueprint for retailers to follow internally and a guide for their manufacturer partners.
– Collaboration may, in certain cases, begin at the strategic planning level, but more often will manifest itself in the joint development of shopper-focused communication platforms and actionable marketing and merchandising programs.
– To fully realize the potential of shopper marketing, retailers and manufacturers must establish working relationships that are more open, productive and results-oriented than has been the historical norm, and must develop the organizational capabilities necessary to accomplish this goal.
To obtain a copy of the full report or learn more, contact The Partnering Group email at generalinfo@tpg-mail.com.