Buying & Merchandising Training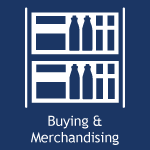 As channel blurring continues and competition increases, Category Management is more critical than ever before. TPG's Buying and Merchandising curriculum puts consumer and shopper insights at the core of executing winning Category Plans. TPG not only wrote the original Industry Category Management best practice report, but has continually enhanced the Category Management approach to meet the evolving needs of our industry.
TPG's Category Management Subject Matter Experts have worked with top suppliers and retailers in leading the flawless execution of hundreds of differentiating Category Plans. Each course provides hands on learning opportunities to enable measurable growth in both competencies and results.
We work closely with our clients to ensure our courses best fit your needs, and we more often than not tailor our approach to fit specific competency or business needs.
A small selection of our courses in this area includes:
Retail Buying 101
Fundamentals of Assortment Planning
Managing Complex Product Assortment
Effective Shelf Management
Fundamentals of Retail Price and Promotion Planning
Shopper Marketing Fundamentals
Category Tactical Blueprint & Initiative Development
Category Plan Implementation and Review