Price: Complementary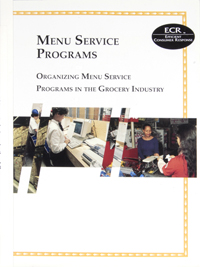 The Menu Service Programs – Organizing Menu Service in the Grocery Industry report was developed by The Partnering Group working with leading retailers and manufacturers in North America and was sponsored by the Joint Industry Project on Efficient Consumer Response.
One key to the success of the Efficient Consumer Response (ECR) initiative has been the grocery industry's willingness to develop and implement tools and processes to improve operations among all industry players. For example, because of activity based costing (ABC), the industry has a better understanding of how to evaluate the value and costs of services between trading partners. Companies now recognize that, in addition to the product, the value and cost of services is an important component of the business relationship.
Because today's business environment is increasingly geared toward value-chain improvement and cost reduction, service costs (beyond product) may comprise an ever-growing portion of the supplier's cost structure. Some suppliers incur a significant variation in the cost of providing products and services to different distributors or different channels.
Similarly, distributors, using advanced activity based costing models, may find considerable "cost-of-relationship" differences among suppliers. Suppliers and distributors understand that they can achieve significant value-chain improvements if they work together to optimize work processes and eliminate non-value-added activities and costs associated with them.
In part to accelerate these types of value-chain improvements, an increasing number of suppliers are now implementing Menu Service (MS) programs. Through these programs – sometimes referred to in the industry as "cost to serve" or "menu" programs – suppliers typically offer distributors a variety of options beyond the price of the product to encourage distributors to participate in the supplier's value-chain improvement initiatives. Often, these MS programs attempt to create win-win opportunities where both trading partners may benefit from their respective investments in interface infrastructure and value-chain improvement.
The report presents a formal process approach to menu service program development, evaluation and implementation. The study found that both suppliers and distributors may benefit from the use of a sound, structured methodology in reference to these programs. Key elements of success for both suppliers and distributors include committed upper management support, strong trading partner relationships, sound financial analysis and a spirit of working together.
To obtain a copy of the full report or learn more, contact The Partnering Group email at generalinfo@tpg-mail.com.