The Opportunity
Traditional total quality improvement programs have been focused only on quality performance as a competing priority with cost, waste and operational performance improvement. By taking a holistic approach at efforts to improve quality simultaneously while streamlining operations, and reducing cost, synergistic opportunities can be realized in R&D, product supply, quality and factory processes. The potential benefits are magnified when the approach is used end-to-end with strategic suppliers. TPG's client's, utilizing this approach, have uncovered overall benefits related to the cost of poor quality that have totaled 20-30% of sales.
Supply Chain
What We Do
TPG supply chain experts help clients evaluate "end-to-end" processes, resources and suppliers that impact product quality. A partial list of our consulting services includes: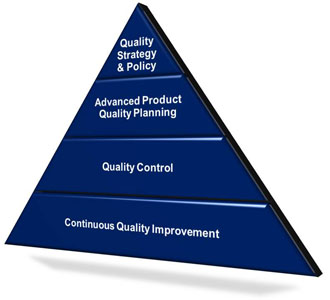 Opportunity Analysis: Using our TQI model as a baseline, TPG provides a clear view of how product development, quality, cost and operational performance processes and structures perform relative to best practices. We provide a scorecard comparison to relevant industry benchmarks, resource recommendations and a series of chartered activities designed to activate and implement TQI best practices.
Implementation: TPG co-leads or supports the delivery of selected chartered activities to deliver the desired results. TPG acts as dedicated program managers, content practitioners, trainers or supplier interfaces. Project milestones and monthly performance reviews are conducted to stay on track to project expectations.