Price: Complementary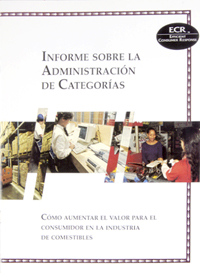 The Informe Sobre La Administracion De Categorias (Spanish) report was developed by The Partnering Group working with leading retailers and manufacturers in North and South America and was sponsored by the Joint Industry Project on Efficient Consumer Response.
Resumen Ejecutivo
Definicion de la administracion de categorias
Introduccion
La administraci0n de categorias ha sido un tema de creciente importancia para la industria de comestibles en los ljltimos anos. El termino evoluciono para describir una variedad de conceptos para distribuidores y proveedores:
– Connota una estructura organica emergente para los distribuidores. Esto implica el surgimiento de los departamentos de adquisicion y comercializacion del distribuidor, compuestos por equipos basados en la administracion de categorias encargados de integrar los planes de negocios a nivel interno (por ej.,abastecimiento, comercializacion y operaciones) y con los proveedores.
– La administracion de categorias tambien se utiliza para designar la reorganizacion de los centros de utilidades internos del proveedor; es decir, dejar de administrar las marcas en forma aislada para empezar a administrar grupos de productos complementarios con el apoyo de politicas y practicas disenadas para agregar valor al resultado de la categoria total.
– Por ultimo, en su connotacion mas amplia y marcada, la administracion de categorias se utiliza para describir el proceso de negocios interactivo, en el cual los distribuidores y sus socios comerciales proveedores, con preparacion y propositos sirnilares, se unen para codesarrollar y administrar planes para las categorias enfocados hacia el consumidor.
Este informe tiene como objetivo principal lograr una definicion y comprensi0n comunes de la administraci0n de categorias, en base a las prscticas empleadas actualrnente por la industria. Cabe senalar que – aunque actualmente ningun distribuidor o proveedor pone en practica todos los aspectos descritos en este estudio – ninguno de los elementos de este sobrepasa la capaadad actual de la industria.