Price: Complementary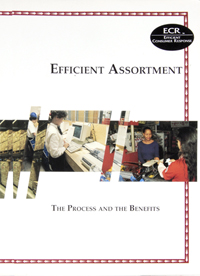 The Efficient Assortment – The Process and the Benefits report was developed by the Category Management Subcommittee, the Category Management Process Improvement Group, the ECR Operating Committee and The Partnering Group. The project was sponsored by the Joint Industry Project on Efficient Consumer Response which includes various Trade Associations in the grocery industry in North America.
This report describes an approach that can assist retailers, wholesalers, brokers and manufacturers in developing a product assortment for a category that is uniquely efficient given their target customers, category strategies and financial objectives. To achieve this objective, the efficient assortment approach:
– Provides flexibility for broad, industry-wide application, while recognizing the diversity of categories and practitioners within the industry.
– Recognizes the valuable and unique contributions of each collaborating trading partner.
– Incorporates and works within ECR practices.
– Reflects the assortment-management needs of suppliers and distributors.
– Considers the current and emerging people, data and systems capabilities within the industries.
Efficient Assortment Defined
A collaborative supplier-distributor process of determining the optimal product offering, within a category, that achieves target consumer fulfillment and enhanced business results.
The Efficient Assortment Model
The assortment model described in this report has four components:
– Component #1: Category Management Framework – assortment is a part of category management, one of five tactics.
– Component #2: Six-Step Process – a simple yet comprehensive process.
– Component #3: Data Integration – consumer, market, financial and operational data.
– Component #4: Collaborative Trading Partner Relationship – a collaborative relationship between suppliers and distributers.
To obtain a copy of the full report or learn more, contact The Partnering Group email at generalinfo@tpg-mail.com.