Price: Complementary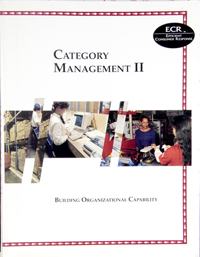 The Category Management II – Building Organizational Capability report was developed by The Partnering Group working with leading retailers and manufacturers in North America and was sponsored by the Joint Industry Project on Efficient Consumer Response.
Common Language and Foundation for CM
In the past three years, category management has grown significantly to the point where it is now identified as one of the industry's top priorities.
Based on the experience to date, most industry trading partners believe that the important advantage of category management lies in common processes superbly executed. This report, therefore, is grounded in the growing objective of industry leaders to define a category management process that will serve as both a common language and foundation for future consumer solutions and business development
The goal of this report is to describe a category management process and identify the supplier and distributer roles and responsibilities consistent with the original Category Management Report – Enhancing Consumer Value in the Grocery Industry (1995). Longer-term, the objective is to help trading partner develop the operation capability to effectively practice category management together.
The findings suggest that suppliers and distributers that implement category management should enjoy enhanced business results. As category management enables distributors increasingly to practice store-level, consumer-driven marketing, suppliers with superior category and consumer knowledge stand to benefit as well.
Advanced category management requires new and sometimes more complex work for all trading partners. Success depends on a strong strategic focus on both categories as business units and consumer demand. The complexity stems from a) taking an integrated, total-system view of distributor and supplier needs and supply-chain work; b) performing consumer – and support-systems analysis that drives category management decisions; and c) elevating the contact between trading partners from periodic events (such as new item presentations or business reviews) to a routine way of doing business.
In order to undertake this work, suppliers and distributors may have to move away from practices limited by geography, transactions and / or tactical executions. Instead, they may have to become more multifunctional, organized to serve trading partners and the categories defined by consumer demand.
All companies – be they consumer-direct, broker, retailer or wholesaler – might have to change if they are to perform category management successfully. Additionally, different types of organizations bring different levels of complexity, affecting the magnitude and manageability of the change. For example, experience suggest that food retailers and suppliers serving narrow niches will find it easier to manage organizational and systems change than do multidivisional organizations that have many more decision makers in the mix.
The importance of senior management leading their organizations through the ECR change cannot be overstated. Their leadership – more than any other factor – will determine the number of category management-capable companies in the coming decade.
The industry changes driven by ECR and category management, in particular, cannot be managed form the middle up. These changes can only be managed from the top down.
Some of the barriers facing suppliers and distributors in realizing the benefits of category management include:
– The current tactical nature of their relationships. Category management is, by definition and in fact, strategic in focus and work processes.
– The lack of the routine systems, information and data exchange required by category management.
– The absence of common business measures and practices among suppliers, distributors and organizations that support them
– The complexity of the organization changes – structure, skills, decision making, etc. – facing suppliers and distributors. These particularly relate to rationalizing capabilities across categories and functions to optimize efficiency and keep pace with consumer demand.
Actually doing the work of category management in the future often leads to significant change for suppliers and distributors. Knowing what needs to be done should not be confused with actually being able to do the work. Importantly, few category management practitioners initially believed that they possessed the full category management capabilities. Many determined that up to two-thirds of the category management work outlined in this report can be new to an organization – supporting the need for considerable change.
The practitioners that were a part of this report concluded that roughly 75 percent of the resources required (e.g., consumer data, supply-chain capabilities data, customer / market data and systems support) are either absent entirely in today's supplier-distributor relations, or are so inconsistent in quality that substantial improvement is required in the future
As one category management practitioner commented: "It's getting increasingly easy to understand the capabilities we're going to have to have in the future, and it's also growing real clear where the gaps are in our capabilities today. The trick is getting from here to there…managing the transition for the next three to five years."
Introduction
Category management has been a topic of growing importance to the grocery industry over the past several years. The term evolved to describe a variety of concepts to both distributors and suppliers:
– It connotes an emerging organizational construct for distributors. This includes the merging of distributor buying and merchandising departments into category management teams charged with integrating business plans internally (e.g., procurement, merchandising and operations) and with suppliers.
– Category management also is being used to describe the reorganization of supplier internal profit centers, i.e., to move away from the management of brands in isolation and toward the management of groups of complementary products supported by policies and practices designed to add value to the total category output.
– Finally, and in its broadest and most powerful connotation, category management is used to describe the interactive business process whereby similarly minded and prepared distributors and their supplier trading partners come together to co-create and manage consumer-focused category plans.
The primary purpose of this report is to provide a common definition and understanding of category management based on practices currently employed by the industry. Importantly, we would like to note that – while no single distributor or supplier is practicing all of what is described in this study – none of the elements of this study is beyond the current capability of the industry.
To obtain a copy of the full report or learn more, contact The Partnering Group email at generalinfo@tpg-mail.com.