Price: Complementary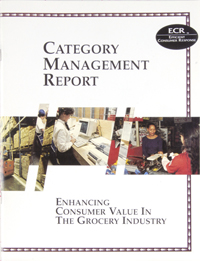 The Category Management-Enhancing Consumer Value in the Grocery Industry Report was a Joint Industry Project on Efficient Consumer Response and was developed by the Category Management Subcommittee, the ECR Best Practices Operating Committee and The Partnering Group, with Frank Grossi and Dr. Brian Harris as primary authors. This project was sponsored by various trade associations in the grocery industry in North America.
Definition of Category Management
Category management is a distributor/supplier process of managing categories as strategic business units, producing enhanced business results by focusing on delivering consumer value.
Introduction
Category management has been a topic of growing importance to the grocery industry over the past several years. The term evolved to describe a variety of concepts to both distributors and suppliers:
– It connotes an emerging organizational construct for distributors. This includes the merging of distributor buying and merchandising departments into category management teams charged with integrating business plans internally (e.g., procurement, merchandising and operations) and with suppliers.
– Category management also is being used to describe the reorganization of supplier internal profit centers, i.e., to move away from the management of brands in isolation and toward the management of groups of complementary products supported by policies and practices designed to add value to the total category output.
– Finally, and in its broadest and most powerful connotation, category management is used to describe the interactive business process whereby similarly minded and prepared distributors and their supplier trading partners come together to co-create and manage consumer-focused category plans.
The primary purpose of this report is to provide a common definition and understanding of category management based on practices currently employed by the industry. Importantly, we would like to note that – while no single distributor or supplier is practicing all of what is described in this study – none of the elements of this study is beyond the current capability of the industry.
To obtain a copy of the full report or learn more, contact The Partnering Group email at generalinfo@tpg-mail.com.