Price: Complementary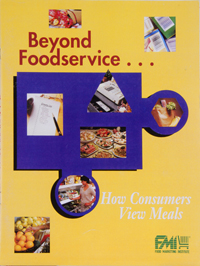 The Beyond Food Service report was authored by The Partnering Group and the Category Management Process Improvement Group working in conjunction with leading retailers and manufacturers in North America. The report was sponsored by Hobart.
Introduction
"Meal solutions" is the supermarket industry's response to the consumer's need for easier meal preparation. From chef-prepared, ready-to-eat meals to the in-store bundling and merchandising of related items centered on a single meal occasion, meal solutions provide the answer to "what's for breakfast, lunch and dinner." The popularity of the concept has led to extraordinary coverage by the media, to lengthy industry discussion and to major customer interest.
Meal solutions is an area in which retailers can differentiate themselves from the competition. Until now, however, most food retailers have narrowly focused in on Meal Solutions only as an opportunity in the deli to add sales and build profitability, and few of these programs have resulted in success. Against this backdrop, supermarket retailers are asking critical questions of their Meal Solutions programs. They're looking for ways to get into the business beyond just investing in high-cost equipment and more complex deli operations. They're searching for a framework within which to build a Meal Solutions program for the marketplace that makes sense to consumers and enables retailers to leverage their existing strengths. They're looking for the tools and techniques that will allow them to build competitive advantage in their Meal Solutions efforts in a way that cannot be easily copied or duplicated.
The purpose of any Meal Solution plan should be to develop and deploy programs that can deliver superior consumer value in the marketplace and enhance business results. To do so, retailers and their supplier partners should work through five basic steps. They are:
1. Understanding consumers' wants and needs
2. Capturing and applying the best programs in the marketplace
3. Developing a sound strategic plan for Meal Solutions implementation
4. Piloting, designing and evaluating Meal Solutions ideas
5. Deploying the right organization to maintain successful Meal Solutions excellence.
This particular report examines the first step – understanding consumers' wants and needs. It explores the critical issues driving consumer interest in Meal Solutions. Readers of this report will learn how consumers think about the Meal Planning Process and the core Meal Solutions Concepts. In addition, readers will be introduced to six different types of consumers and learn about their different attitudes towards meals and the implications for retailers.
This report addresses the first requirement of a successful Meal Solutions program – understanding consumers' wants and needs. A series of focus groups and a nationally representative mail survey study were fielded, and the learnings gained from this research forms the basis for developing a segmentation model of consumers based on their wants and attitudes towards Meal Solutions.
There are four sub-categories of Meal Solutions, based on the level of consumer involvement in the preparation of the meal: Ready to Eat, Ready to Heat, Ready to Prepare and Ready to Create. Each requires a different level of consumer effort and involvement throughout the meal process, so consumers view them differently.
The focus groups uncovered a number of important issues surrounding meals and Meal Solutions.
– Meals are more than just nutrition and sustenance; they meet important social and psychological needs as well. Six "need states" were identified – Physical, Mental, Spiritual, Cultural, Entertainment and Reward. Retailers should understand which need states their Meal Solutions programs address and try to leverage that state further through improved communication and promotion efforts. The more a retailer links their Meal Solutions efforts to consumers' need states, the more likely it is that the consumers will respond positively.
– It is clear that meals are an important part of consumers' lives, requiring a lot of time and energy. Meals are complex, changing by day and by day part based upon the scheduling and social needs of the household. Meals can be broken down into a five-step process – Planning, Changing Plans, Cooking and Preparation, Eating and Cleanup. Each stage has a unique set of costs and benefits to consumers. Retailers should seek to drive down the costs and improve the benefits of each step as they develop their Meal Solutions programs.
Most consumer frustrations regarding Meal Solutions occur in the Planning stage. The key for the retailer is to help the consumer with planning issues by providing a range of meal ideas across the range of preparation options identified previously.
The quantitative study was based upon the learnings in the focus groups. The questionnaire sought to segment consumers based upon the important attitudes and need states identified previously. The study confirmed that, in general, having Meal Solutions options is important to consumers and an opportunity for retailers. Meal concepts related to convenience and value are interesting to consumers, and many of them do not find that supermarkets meet their Meal Solutions needs.
Based on results from the quantitative study, consumers can be divided into six core groups:
– On the Go Jugglers
– Healthy Family Cooks
– Gut Stuffing Indulgents
– Meat and Potato Cooks
– Strict Food Monitors
– Thrifty Food Balancers
Each group has a unique interpretation of the Meal Solutions concept. Retailers must identify which of these consumer segments are most attractive to them and develop specific Meal Solutions programs for them. Based on this segmentation research, it is clear that no one concept can be attractive to all consumer segments. Therefore, the smart retailer must offer a range of Meal Solution concepts, each with carefully designed components and marketing programs.
Methodology
The qualitative research consisted of 18 focus groups conducted around the country among a number of different demographic consumer groups. These groups were conducted in Atlanta, Tampa, Boston, Charlotte, Louisville and Dallas. All participants were the primary meal provider and preparer in their household. Six groups were recruited based on values and attitudes, while 12 groups were organized by lifestyles. The results of this qualitative research served as the foundation for the subsequent quantitative research and the segmentation study. A questionnaire was developed to probe the core needs identified in the focus groups. The questionnaire was then mailed to a broad, nationally representative panel of more than 2600 consumers. Results were statistically analyzed to identify and analyze the consumer segments. This research was conducted by The NPD Group, Inc. and was fielded in January, 1998.
To obtain a copy of the full report or learn more, contact The Partnering Group email at generalinfo@tpg-mail.com.