Price: $995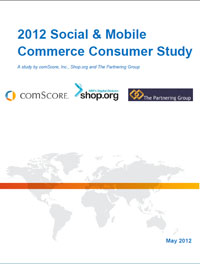 Listed below are the key findings of the study:
Social Commerce
• Consumers show some decrease vs. 2011 in following retailers within social platforms (e.g. Fan/Follow). Information sharing and privacy are leading reasons why some consumers choose not to follow a retailer via social media and concerns regarding privacy have increased over the prior year.
• The rapid growth of social player Pinterest is a natural social commerce platform for retail. Consumers are interacting with this emerging social platform like an online window shopping event – albeit a window shopping experience set by the consumer, not by the retailer.
• YouTube is emerging as a bona fide social commerce venue. Consumers are actively looking for product information via retailer channels – and are also clicking through to buy.
• Demographics are becoming more specific by social platform.
• The importance of deals and product information has waned somewhat as leading reasons consumers choose to follow a retailer via social. However, consumers again this year note that they also look for trend information, customer ratings and reviews, and (more so than in 2011) expert opinions, among other features.
Mobile Commerce
• Consumers continue to use mobile devices to inform their shopping, whether at home, on the go, or in store.
• Smartphones are used more than tablets for social shopping activities. In addition to taking and sharing pictures, smartphone owners also actively use these devices to find stores and look up product and price information.
• While in a physical store, two out of five smartphone owners are actively checking and comparing prices and products.
• Tablet owners actively use these devices to comparison shop, research products and prices and ultimately make purchases.
• Total smartphone and tablet eCommerce spend tripled between Q4 2010 and Q4 2011. Mobile device spending now accounts for close to one in every ten U.S. eCommerce dollars.
To obtain a copy of the full report or learn more, contact The Partnering Group email at generalinfo@tpg-mail.com.