Price: $995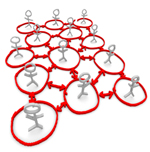 Listed below are the key findings of the study and some simple next steps to consider as a retailer.
1) The U.S. online shopper has gone social. Our study focused on the adult online population of the U.S. The study identified that 77% of the online adult population has adopted social platforms. Clearly the critical U.S. consumer for ecommerce is already social.
2) Consumers are ready and willing to shop "socially". 42% of consumers have "followed" a retailer proactively. This means that they have sought out the Facebook, Twitter or retailer blog for a given retailer and opted-in to be contacted by that retailer via social channels. While the overarching purpose of social media will remain to connect with friends, this shows that consumers are also actively welcoming brands that they know and trust into a new level of contact and dialog.
3) Consumers are following multiple retailers but this behavior is still in early stages. The average consumer that has "followed a retailer" now follows an average of 6.3 retailers. Consumers are liking and following retailers with – for now – low opt-out rates. The opportunity for retailers is to build their fan base now and focus on genuine connection and interaction to maintain that relationship long term.
4) Consumers want product discounts and deals but are also interested in product information. Retailers should consider a "VIP" execution whereby the proven tools of promotion and product information are given a unique and valuable spin for the retailer's social fans.
5) Over half of consumers who follow a retailer say they have clicked through from a social platform to a retailer's website, browsed products or commented. Retailers should take this established interaction as a strong indicator of intent.
6) Retailers must project their product stories on Facebook and Twitter without delay. Nearly one third of consumers who follow a retailer also indicate that they have made a purchase through a link they saw on a social platform. Also, when asked about their future intent, over one third of all consumers on a social platform said they would shop directly through Facebook if they were provided the capability.
7) Mobile is both an accelerator and a transformer of social commerce behavior. Mobile is a driver of social frequency: as smartphone usage grows, consumers increase the frequency with which they use social media, including shopping tools such as customer reviews. As retailers expand their mobile strategies, they must also consider how Facebook and Twitter interaction can be built in.
8) Channels are increasingly blurred to the consumer. Almost half of all consumers report accessing customer reviews using a mobile phone while in-store, a trend that will accelerate as more consumers migrate to smartphones. As women catch up to men in adopting smartphones, this trend will accelerate even more.
9) Consumers are not engaging with retailer blogs. Only 4% of consumers surveyed stated that they followed retailer blogs. With the exception of larger brands and lifestyle brands, retailer blogs have very low usage by consumers and may be better suited to goals other than community. Each brand must make its own call whether to develop a community on its site (blog, etc.) or to drive community using Facebook or other tools.
10) Consumers want access to what their friends think about products on the retailer's site.
Retailers should consider Facebook Graph API tools as a way to bring the friends along.
To obtain a copy of the full report or learn more, contact The Partnering Group email at generalinfo@tpg-mail.com.