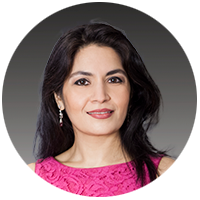 Jyoti is a Partner in our Learning & Development, Omni Commerce, and Marketing practices. She advises clients globally and helps them increase revenue by upskilling talent and leadership, marketing & branding, Omni commerce, and tech / digital transformation. She also brings a wealth of knowledge specific to the market in India and the Indian consumer in the US.
Jyoti's work has been featured in Newsweek and Bloomberg Businessweek. Jyoti earned a Bachelor of Science in Computer Science, MBA from MIT, and MPA from Harvard.
Capabilities:
Training, learning, and development
Diversity, Equity, and Inclusion
Retail, Fashion, Luxury Goods
Marketing and Branding
Technology and digital transformation
Prior Experience:
Prior to joining TPG, Jyoti worked at Cartier, IBM, and KPMG and launched 2 businesses. At Cartier, Jyoti led marketing/branding, CRM, strategic partnerships and alliances, and loyalty programs, and helped with the growth of eCommerce. Prior to Cartier, at IBM and KPMG, Jyoti was involved in digital transformation, automation, and enterprise software development for clients in several industries. Most recently, Jyoti launched two businesses, one in Omni commerce and another in Learning and Development, that worked with Fortune 500 and SMB businesses.