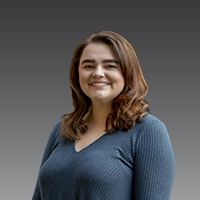 TPG Role: Client Services & Graphic Design Manager
Valerie is TPG's Client Services and Graphic
Design Manager. She is responsible for creating designs, organizing
presentations, and providing a professional interface with clients, partners
and vendors.
Partner Capabilities and Expertise:
Valerie is involved in analyzing client
information and material and illustrating concepts through presentation design.
Valerie expresses her graphic and digital design talents by producing visuals
to communicate ideas and tell a story.
Partner Industry Experience:
Prior to TPG, Valerie was a graphic designer for a promotional products manufacturer. She worked one on one with clients to create custom tailgate game sets, home décor, and other personalized products. Her internship with BHDP Architecture gave her a platform to both create graphic design and interactive media for UC's "Next Lives Here" initiative.
Partner Education:
Valerie earned her BS in Digital Media from the University of Cincinnati's McMicken College of Arts & Sciences with a minor in Fine Arts.
Areas of Expertise:
Digital Media
Graphic Design
Editing
Adobe Creative Cloud