Market leaders are driving change across functions to re-wire to the new go-to-market model called Digital Commerce.
Digital Commerce in simple terms is creating an integrated customer experience whenever and wherever they interact with the brand, which results in strengthened loyalty and sustainable sales growth.
To support today's integrated marketplace, new insights, strategies, go to market capabilities, and business support systems are required to flourish in a digital ecosystem.
This is the evolution of prior digital-related strategies and is inclusive of work surrounding eCommerce and/or Omni-channel.
How We Help Clients
TPG helps brands win consumer preference in a digital commerce.



TPG transformed our bricks & mortar business model to a responsive Digital Commerce engine.

Learn more about our impact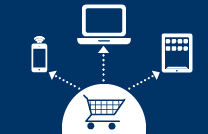 TPG Advantage
With senior partners in all functional areas who have led the transformation to Digital Commerce, TPG is uniquely suited to help you build capabilities, but most importantly – design the linkage and macro business processes to wire horizontally for efficiency and effectiveness.
Renovating the target consumer shopper journey insights to achieve brand loyalty & advocacy
Demystifying brand building in a Digital Commerce ecosystem
Re-wiring organizational competencies to win