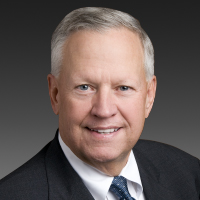 TPG Role: Partner
Bill is a Partner in the Supply Chain Practice at The Partnering Group. Bill consults with importers and exporters looking to reduce costs, minimize risk and accelerate supply chain velocity through implementation of best in class global trade compliance programs. Bill is driven to help companies gain competitive advantage and improved customer satisfaction in their markets.
Partner Capabilities and Expertise:
Bill brings a wealth of cross-functional executive and operational experience in international supply chain operations across a broad spectrum of industries including retail, industrial, healthcare (pharmaceuticals, medical devices and supplies), and high tech. Bill has successfully filled division and corporate leadership positions both domestically and internationally with an emphasis on North America, Europe and Asian locations and cultures. Implemented multi-country trade management operations centers in Poland, China, and India. Led 3 successful M&A and due diligence transactions.
Partner Industry Experience:
Prior to joining The Partnering Group, Bryon enjoyed a forty plus year career in the customs brokerage, freight forwarding and logistics industry with large and mid-sized companies such as UPS Supply Chain Solutions, UPS Trade Management Services and McGraw-Hill, as well as smaller and independent corporations such as Shapiro, Logisco, Freightdesk and W.G. Carroll.
Area(s) of Expertise:
Imports/Exports,
International Trade, and Regulatory Compliance

Mitigating
trade compliance risk

Implementation
of documented global trade compliance programs

Reducing
costs with proper INCOTERMS

Improved
landed cost forecasting

Reduction
of cargo delays and unplanned costs with proper trade documentation

Implementation of Audit
programs to ensure compliance

Service Provider
(Broker/Forwarder) selection and management

Organization Design, Leadership
Development and Succession Planning
Trade Automation

Using Trade Automation to
improve documentation and trade compliance

Using Trade Automation to
manage global supply chains
Formal Education Experience:
University of Georgia – Bachelor of Science Education