Written By: Todd Bradley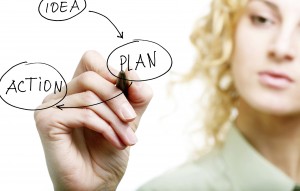 Innovation drives growth and the rewards can be significant.  Research shows that breakthrough innovations produce 6 times the results of incremental innovation efforts like product improvements and line extensions.  However, all innovation involves risk, as indicated by the 70-80% failure rate of new consumer products in the grocery industry, according to Inez Blackburn of the University of Toronto.
In the innovation work that TPG has done, we have identified several key inhibitors to successful innovation programs.  One of the most important is the lack of an innovation strategy that is agreed-to by all key company functions.  Absent company-wide alignment to an innovation strategy, "pet projects", duplication of effort, and a low market success rate become the norm.
What is the purpose of an innovation strategy?  Quite simply, it is to guide the strategic direction, allocation of resources, pace of innovation and focus areas for the company.  A well-articulated innovation strategy provides a balanced, long-term roadmap for both brand renovation and breakthrough innovation.
Case Study
 Situation

A leading pet food supplier had significant gaps in its product portfolio in two key consumer need areas, and was therefore ceding share to competitors
Its approach to innovation was a series of unrelated "one-off" projects driven by management whim and restricted by technological constraints, and the in-market failure rate was nearly 3 times that of competition
As a result, they had lost retailer credibility and confidence, resulting in significantly more costly product launches
They clearly needed a long term innovation strategy that would allow them to grow the base business, and to develop a pipeline of innovations that would provide a stream credible product offerings in these important consumer need areas

Key Principles

Innovation must be guided by strategic business needs
Decisions should be driven by consumer needs and market insights, rather than subjective management opinions
Innovation platforms should be built for scale, speed and efficiency
It may be necessary to develop a track record of small successes before pursuing a truly disruptive innovation

Action Steps

TPG assembled and led a cross-functional team including Brand, Insights, Sales, and Operations to address some fundamental innovation
strategy questions:

How much innovation is required?
Where should we innovate?
What is the desired mix of types of innovation?
How will we evaluate and prioritize initiatives?
How will we resource the work?
What capabilities will we develop to strengthen innovation effectiveness?
How will we measure the results of the innovation program?

Mined existing data for new insights (need states, shopper insights, category dynamics, etc.)
Identified critical knowledge gaps and conducted incremental consumer insight sessions to address this need
Developed a robust innovation framework with platforms (organizing principles) and vectors (ways to deliver on the platforms) that would achieve both brand requirements and corporate business objectives
Developed a pipeline of product concepts to be further vetted and developed
Results

Strong alignment of all company functions behind selected priorities
Creation of balanced scorecards for both close-in renovations and longer term innovations
Agreement to close key technical capability gaps required to execute the innovation strategy
A series of product concepts within the innovation platforms and vectors that  balance near term incremental innovations and long term breakthrough innovations
If you would like to learn more about how TPG can help your organization create an innovation strategy that will help build your business and competitive advantage, contact Todd Bradley (tbradley@tpg-mail.com), (973)-831-4425.