In-Bound Consolidation Program
Inbound consolidation is increasingly one of the highest impact retail/wholesale supply chain initiatives, particularly in an omni-environment.  In-bound consolidation programs control the movement of less than truckload (LTL) finished goods, from suppliers into low-cost consolidation centers, aggregating multiple LTL shipments into full truckloads that ship directly to distribution/fulfillment centers for final store delivery.
What We Do
TPG's retail supply chain team assists clients in designing and operationalizing in-bound consolidation programs that include new supplier performance policies, new consolidation centers ,and industry-leading service level capabilities that deliver significant cost savings and margin improvement. Our services include: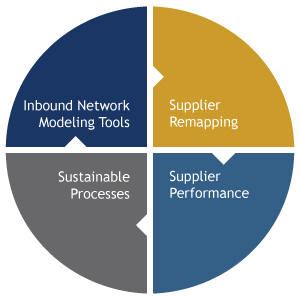 Embed TPG's proprietary "First Cost Model".
Design the supply base network including ship from locations and delivered pricing structures.
Utilize proprietary inbound modeling tools to optimize the in-bound network and consolidation centers.
Guide the client team, incorporating the optimized network data, for consolidation center/carrier RFPs, start-up training programs with ICP SOPS and KPI's.
Support Merchandising/Product Management Teams with training, customized supplier negotiation strategies and cost targets to achieve the highest possible savings.
Build cross-functional collaboration around new supplier standards/performance and incorporate into new business requirements and new supplier shipping guidelines.
Build and activate industry-leading processes that are transparent and sustainable.