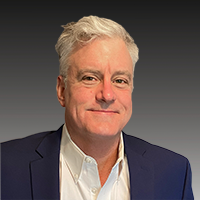 TPG Role: Partner
Greg is a Partner with The Partnering Group with focus on innovation strategy, new product development, and innovation capability development.
Partner Capabilities and Expertise:
Greg brings 35+ years of applied experience working within and at the intersection of strategy, brand, consumer and product design/development in both B2C and B2B. This diverse and applied depth enables him to meet clients and situations where they are, discern "what help looks like" and holistically address and solve challenges from any step-off point.
Partner Industry Experience:
CPG: P&G
During his 28 years at P&G, Greg contributed to several NA and global initiatives in F&B, OTC/Rx Health Care and household products (e.g., Pampers, Swiffer, Crest, Cascade Duncan Hines, Brontex/Entex, Iams/Eukanuba).  Has always enjoyed "doing the work", and uniquely held mastery-track roles in several innovation disciplines (product research, design, brand, and upstream technology).  Deep-cycle experience all phases from strategy, front-end, development and launch including many programs developed and launched outside NA. 10-year experience in ML&A space on corporate and BU new business strategy initiatives (e.g., Gillette, Iams, Swiffer and several of OTC, Rx and chemical platform acquisitions and integrations).
Extensive experience in the "fuzzy front end" and the collaborative, multi-disciplinary, fast-cycle facilitation practices needed during early-stage work to bring discipline, and efficient-rigor to opportunity discovery, definition, and proof-concept.  Along those lines, Greg served as a COP leader for the deployment of Design Thinking as a new strategic P&G competency. In this role, Greg received David Taylor's President Award for his initiatives to transform P&G culture.
B2B: Koch Industries & Worthington Industries
Following P&G Greg held executive innovation and NPD leadership roles with Worthington Industries (Steel, Cryogenics, Alt Fuels) and Koch (Building Products) over ~6-year span.  Built productive and sustaining new-to-company innovation capabilities from scratch (strategy, stage-gate, integrated brand management, consumer insight, product design/development).
Independent Consulting
In his last two years before joining TPG, Greg was an independent consultant specializing in innovation strategy and enterprise capability development serving clients such as Fifth Third Bank, Emerson, FedEx, Scotts MiracleGro, The Ohio State University, IGS Energy, Dow/DuPont, and Miller Welding. He's a passionate and experienced teacher.  Greg serves as an Adjunct Professor of Innovation Methods at the Illinois Institute of Technology College Institute of Design and is a Visiting Innovator at The Ohio State Office of Research and College of Engineering where he helps coach administration, faculty, and students on strategy and innovation.
Area(s) of Expertise
Innovation strategy
Front End Innovation (human-centered, brand lighthouse, tech-push)
Enterprise innovation capability development and installation (basic to advanced)
Fast-cycle, collaborative methods (e.g., Design Thinking, consumer co-creation)
New technology commercialization and "tech push"
Partner Education
Chemical Engineering
Industrial Design