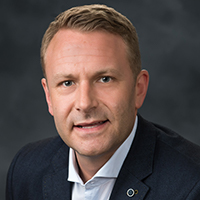 TPG Role:
Rob is a Partner in the Customer Development Practice at The Partnering Group. He has excellent experience of leading retail and consumer packaged goods companies in their efforts to become more capable, strategically focused and customer oriented.
Partner Capabilities and Experience:
Rob has an excellent understanding of both Retail and CPG. He has been exposed to Category Management on both the Retailer and CPG side for over 17 years.
During his time in retail, Rob was heavily involved in category planning, range reviews, merchandising solutions, pricing architecture, promotional management, own label development, product management, supplier management, negotiation, joint business planning and all elements of the marketing mix from TV production to Direct Mail driven from world class shopper data.
These experiences and understanding of retail made Rob excel in his time in CPG. He developed and instilled a culture of category based selling at Molson Coors both from his position of Customer Marketing / Category Director and Sales Director. He led his team by empowering them with category data & trained them to give them the ability to produce compelling selling stories. He was central to the development of the brand teams, customer marketing and supply chain ensuring that all these functions has the customer at the heart of their planning & decision making.  During this period Rob gained experience of improving sales forecasting, creating multi-functional selling teams and creating sales strategies.
He is passionate about developing capability in-both people, planning, process and organizations.
Partner Industry Experience:
Prior to joining TPG, Rob worked at Molson Coors as part of the Off-Premise Leadership team. He successfully led Multi-Functional selling teams and has personal selling experience across all leading grocery & convenience retailers in the UK. Rob also has significant retail experience having held leadership positions at Audi UK & Boots the Chemist.
He began his career as a graduate at Tesco where he learned the fundamentals of retail marketing, loyalty data, category management, negotiation, merchandising and supplier management.
Partner Education:
Rob has a BA (2:1) Honors degree in Marketing & Human Resources from the University of Wolverhampton
Areas of Expertise:
Category Leadership
Customer / Joint Business Planning
Sales / Category Management Training
Organizational Design
Buying & Merchandising